Huntington Beach Bail Bonds is your trusted local expert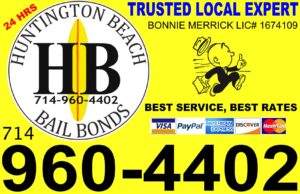 Huntington Beach Bail Bonds has been a trusted local expert bail bonds company for over 30 years. We are a 5 short minutes from the Huntington Beach Police Department. We know how to get people out of the Huntington Beach Police Department fast! If someone you know has been arrested in Huntington Beach, call us asap (714) 960-4402 so we can help you bail them out now.
The booking process generally takes 2-3 hours from the time the person arrives at the jail but don't wait to call us! We can use this time to get everything ready. We will be able to post the bail bond immediately once the person has been cleared and is eligible for release.
Leave a Comment
You must be logged in to post a comment.